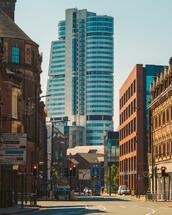 Little has changed since then, as the challenge of historically high borrowing costs continues to persist in the UK commercial property market during the first half of 2023, particularly impacting regional office markets.
While many major UK cities have witnessed a decrease in occupancy, with tenants scaling back or postponing their space requirements, Leeds has stood out by recording several significant office lease agreements in the first half.
According to data released by the Leeds Office Agency Forum earlier this year, the city center saw 146,042 square feet of office space being leased in Q2 2023, across 31 transactions. This followed a notably strong first quarter, with approximately 270,000 square feet leased, marking a remarkable 116% year-on-year increase for Leeds. By mid-year, the city center had already registered around 413,000 square feet in deals, representing a 53% increase compared to the same six-month period in 2022.
Giles Tebbitts, CoStar's Director of Market Analytics for Manchester, highlights that Leeds' substantial financial and professional services sector, coupled with its growing reputation as a hub for technology and media, has contributed to the sustained demand for office spaces even in challenging economic times.
Although leasing activity has slowed since the onset of the pandemic and vacancy rates have risen to 6.6% due to occupier consolidation, CoStar's Base Case forecast suggests that these rates will remain lower than those of other major "Big Six" office markets in the UK and the country as a whole.
Giles Tebbitts notes that the increasing vacancy rates are exerting downward pressure on rental growth, which has decelerated to a 0.9% year-on-year increase and is projected to further weaken in the upcoming months, aligning with the rising supply. Prime headline rents in Leeds city center stand at £36 per square foot, which is lower compared to other prominent Big Six destinations.
Jeff Pearey, Head of UK Regional Office Agency at JLL, attributes Leeds' exceptional performance in the first half of the year to the availability of prime office spaces at the right time. Several office projects, including Globe Point, 12 King Street, and 11 & 12 Wellington Place, reached completion during this period.
Pearey explains that the market's success is partly due to a continued focus on high-quality office spaces. Occupiers, when faced with lease events, are inclined to move to more sustainable and environmentally accredited offices. Additionally, promoting a return to the office is a driving factor. Acquiring fresh, sustainable office spaces and reconfiguring them in a way that encourages people to come in has played a pivotal role.
The most significant deal in Leeds so far this year involved Lloyds Banking Group signing a massive 124,000-square-foot lease at MEPC's 11 and 12 Wellington Place, one of the city's most energy-efficient buildings. Other prominent corporate tenants, including Arup, GHD, Hill Dickinson, and JLL, have also taken space in this development.
According to Pearey, the Lloyds deal set a strong precedent for Leeds, contributing to the city's best-ever first quarter. He notes that Leeds typically sees around 600,000 square feet of office take-up annually, which has been the average over the last decade. Surpassing 400,000 square feet by the mid-year point indicates that the city is poised for an above-average year. However, Pearey highlights the need for more pipeline developments to meet the demands of discerning office tenants who seek meaningful relocations.
Adam Cockroft, a partner at Cushman & Wakefield, underscores several factors that make Leeds attractive to businesses and employees, including access to a large graduate population, proximity to green spaces, and lower housing costs. He emphasizes the growing significance of ESG (Environmental, Social, and Governance) credentials for occupiers.
Cockroft predicts increased tenant movement in the second half of the year as companies continue to rightsize and reduce operating costs. He also notes the emergence of "grey space" or occupier-leased space in the market, although it hasn't reached significant levels as previously anticipated.
Like others, Cockroft expresses concerns about the limited development of speculative office space in Leeds. Any new stock that becomes available is swiftly taken up by occupiers seeking optimal accommodations. He highlights several upcoming schemes, including Vastint's Aire Park and the expansion of Wellington Place, as potential sources of additional workspace in the city.
In recent years, traditional occupiers have downsized their office spaces, while the flexible office sector has continued its expansion throughout the UK, witnessing multiple operators opening facilities in various regions, and this trend shows no signs of slowing down.
One such operator is Spacemade, which currently has a presence in 12 locations across the UK, including London, Birmingham, and Leeds. They operate an approximately 22,000-square-foot space at Park House in Leeds. Co-founder Jonny Rosenblatt asserts that Leeds ranks among the strongest markets for Spacemade, alongside London, boasting nearly 100% occupancy.
Rosenblatt notes that after the world began to reopen following the COVID-19 pandemic, there was a notable surge in the demand for flexible office solutions, particularly pronounced in Leeds. He highlights that while there are several flexible office operators in the market, there is still a slight undersupply in Leeds compared to other markets where such services are more abundant. Moreover, many companies are hesitant to commit to long-term leases and are opting for flexible spaces instead.
Spacemade competes with home offices by offering companies support in bringing their employees back to physical offices. They do this by providing high-quality amenities that surpass those found at home. Examples include on-site coffee shops, well-designed meeting spaces, podcast booths, and even a climbing room in one of their Birmingham offices.
Rosenblatt reveals that the company is considering the possibility of opening two additional sites in Leeds and is in discussions with landlords. They are targeting spaces larger than 15,000 square feet to achieve economies of scale.
He adds that their preferred building types in Leeds are similar, with a ground floor presence that can activate the streetscape, drawing in foot traffic and generating interest. Consequently, they are exploring multiple buildings, all situated in the city center.
According to data from Avison Young, Leeds experienced £20 million in office sales in the first half of 2023, a notable decrease compared to expectations for this period. This trend is reflected in other regions as well. In the second quarter, the prime yield for Leeds stood at 6.25%, and it is anticipated to rise in the next quarter.
Bruntwood, a developer with a history of investment in Leeds, acquired the 90,000-square-foot Castle House building from Bridges Fund Management in July 2021 for a multimillion-pound sum. The group is currently renovating this building, which will be combined with the adjacent West One to create a new, modern 140,000-square-foot Grade A office space.
Given the increase in remote working, Andrew Butterworth, Commercial Director at Bruntwood, emphasizes the aim of creating environments at West One and other renovated or new properties that can compete with the comfort of people's homes.
"Our approach revolves around listening to our customers, understanding their needs, and ensuring that we incorporate appropriate amenities and services into our buildings to meet their demands. Especially in today's business landscape with the prevalence of hybrid working, we want to provide businesses and their employees with compelling reasons to return to the workplace. When they are there, we want to maximize their productivity through well-thought-out physical design and the services and amenities we offer."
Bruntwood is also engaged in a comprehensive renovation of another Leeds office, the 90,000-square-foot West Gate. This property, already equipped with showers, extensive bicycle facilities, and a gym, has garnered attention, with HM Courts and Tribunals securing over 26,000 square feet on a 15-year lease.
Butterworth highlights the blend of large corporate firms and a thriving SME sector in Leeds, which has allowed Bruntwood to diversify its offerings in the city. This diversity makes Leeds a strong base for the developer, and it has confidence in continuing to invest in the area.
"I believe it has a compelling proposition. The city is well-suited for the businesses that are currently based there. In the past, we've explored markets where there was an oversupply of office space and insufficient demand to fill it, leading to price reductions and reluctance to invest due to imbalanced supply and demand dynamics. That's not the case in Leeds. The city is strategically positioned, continuously improving its office stock, which is precisely what businesses are seeking. They are willing to pay the right rent for such spaces, provided the buildings offer a compelling package."
MEPC is another key developer in the region, and its 11 & 12 Wellington Place development has been successful in attracting tenants, including law firm Hill Dickinson, alongside Lloyds and JLL. Paul Pavia, Head of Development at MEPC, attributes the success of the development to careful design and strong ESG (Environmental, Social, and Governance) credentials, both of which played a significant role in securing the Lloyds deal.
"The decision to lease space at 11 & 12 Wellington Place underscores the exceptional quality of design and sustainability features inherent in the buildings. Notably, these structures were the first outside of London to attain a groundbreaking NABERS Design Reviewed Target of Five Stars or higher.
Lloyds places a strong emphasis on reducing its carbon footprint as part of its sustainability strategy, and being situated in one of the UK's most sustainable office buildings aligns perfectly with this goal. The buildings, equipped with smart technologies, also reflect Lloyds' commitment to offering high-quality office spaces that foster a positive work environment.
Additionally, the extensive amenities offered by the scheme and the range of social impact and community activities, such as street food markets and fitness classes, were key factors that attracted the banking giant.
I believe that the city of Leeds will continue to perform exceptionally well and attract prominent tenants. Wellington Place serves as a compelling example of the confidence in the Leeds office market. It highlights why the city is a preferred destination for both new and existing occupiers.
With its rapidly growing young population and a collaborative environment that encourages cooperation between the public and private sectors, it's evident why brands like Channel 4 have chosen Leeds as their headquarters outside of London and why global enterprises such as Flutter not only establish their presence but also invest and expand in this dynamic city."