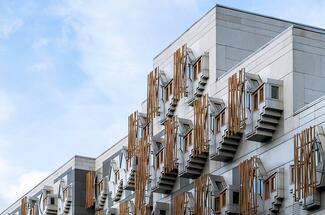 While international appetite has boomed, UK investors' interest has been more muted, looking to other parts of the UK and overseas as a home for deploying their capital.
However, in the last 12 months, this trend is changing and there are positive signs of the re-emergence of UK investors and institutions, in particular, prepared to put Scotland back on their investment radar.
The fallout from the Scottish referendum in 2014 saw most UK institutions exercise more caution than usual which in turn opened up the door to investors from Europe and further afield.
Added to this, the immediate impact of the European referendum outcome in 2016 saw sterling devalue, giving better value for investors trading in the euro or dollar.
This had a clear impact on the market. In 2016, international investment in Edinburgh offices, as a proportion of total investment, increased to a staggering 90 per cent, up from the previous year of 62 per cent and compared to 2014, when only half of investment came from outside the UK.
With a more settled political landscape and a view that Scotland is offering slightly better value in comparison to other parts of the UK – the traditional foreign investor hotspots of London and Manchester – UK institutions are making a comeback to the Scottish market.
Stock selection remains key but despite continued competition from overseas, their return is a very welcome sign.
During the first quarter of this year, UK funds have been far more active than they have been in the past six months, especially for larger assets and prime opportunities in Scotland.
Last week, Aberdeen Standard Investments purchased a 113-unit residential block build-to-rent scheme in Edinburgh for £27.5 million.
At the turn of the year, Rockspring Property Investment Managers acquired a prime office and retail opportunity at 9-10 St Andrew Square for £25.75m.
UK-based Hermes Real Estate recently acquired the Glasgow office development Skypark, paying circa £80m for the 550,000sq ft scheme .
With no suggestion that international investors have lost interest in Scotland, it's clear that UK funds have found a renewed confidence – and the fire power – to compete for the biggest deals.
The first quarter of this year has been relatively sluggish in terms of overall investment volumes in some areas but, encouragingly, the number of deals with UK-based buyers is seeing a rise.
According to JLL's own data, in the first three months of this year, the total invested across Scotland's offices, alternatives, hotels, industrial and retail sectors reached £700m, a 32 per cent increase compared to the first quarter of last year.
A good mix of overseas and UK institutional capital is ensuring that pricing for better assets is holding firm.
Uncertainties remain in the short to medium term, with Brexit likely to become more of a factor as we head towards next March. Nevertheless, there are macro risks across many global markets and, for now, Scotland is showing that it is more than capable of attracting its fair share of investment.
Investment is about calculated risk, and there will continue to be winners on both sides, domestic or international.
What is for certain is that UK funds are certainly not down and out, and are ready to compete this year.
Chris Macfarlane is lead director in capital markets at JLL Scotland.