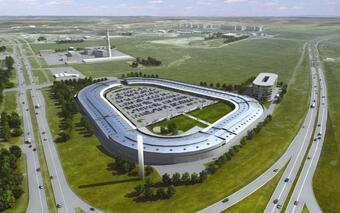 "The study was conducted at the end of this January and February, and was participated in by a total of 387 respondents, mostly from Europe, representing a broad spectrum of real estate investors: These included asset and fund managers as well as representatives of pension funds, insurance companies, real estate companies and real estate investment funds", Klára Bejblová, Senior Researcher at CBRE explains details of the study.
Consistently attractive UK and growing popularity of Spain
For European real estate investors Western Europe remains the preferred territory, followed by Central and Eastern Europe. North America came out third in the investor ranking.
This year, investors will be particularly interested in the UK, which replaced Germany in the top spot. Spain, which occupied third place, recorded the largest growth in popularity with investors. Italy and the Netherlands also gained. Alongside Germany, the Nordic countries and Central and Eastern Europe also decreased in popularity.
A similar reversal was also recorded in the ranking of cities. London still holds the leading position in popularity, but Munich, Paris, Warsaw and Hamburg all lost points. In contrast, Madrid and Amsterdam gained significantly and Barcelona gained a spot among the ten most attractive cities for real estate investment.
The real estate investment market amounted to almost 65 billion euros in the UK, 30 billion euros in Germany and 15 billion euros in France.
Investors are looking for alternative investment options
Offices are the preferred type of property that investors wish to focus on this year. The logistics sector holds second place. Shopping centers occupied third place, but compared to 2013 they declined in popularity from 17 percent to only 11 percent.
Whereas in past years investors sought only prime products, today they are not afraid to invest in high-quality secondary real estate. An interesting fact is that investors in 2014 are looking for alternative investment opportunities and venturing into a greater risk. The most attractive alternatives include leisure activities, student housing and health care.
More than a third of investors will invest 20 percent more this year compared to last year
More than two thirds of investors expect their investment activity will grow this year. As much as 35 percent of investors expect this year to invest 20 percent more than last year. The greatest obstacles to investors are a lack of suitable opportunities, high costs of real estate and high competition in the real estate market.
This is a very interesting turn due to the fact that in recent years the greatest obstacle has been unavailability of loans (in 2014, however, this obstacle was mentioned by only 7 percent of respondents). This means that banks are becoming less cautious when it comes to financing real estate, more than 30 percent of the participating companies perceive the following as significant threats to the European market for commercial real estate: Overestimation of real estate, increases in interest rates, threat of high inflation and government austerity policies.
Conservative European investors invest only at home
While European investors continue to seek investment in their own continent investors across the globe are much more interested in real estate outside of their home continent. The European and North American markets are especially attractive to global capital. The influx of investment in European commercial real estate from other continents has grown in 2013. The total investment into the European real estate market from other continents in 2013 was 42 billion Euros, up from 24 billion in 2012. The most capital flowed in from North America (21 billion Euros), Asia and the Middle East (each with 10 billion Euros).
Source: praguepost.com/
Publisher: praguepost.com/