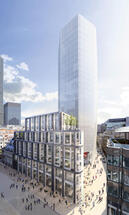 This 25-storey office development in the City of London wraps an existing 1970s core in a fritted-glass façade, rising up out of the tight pedestrian lane of Angel Court. Particularly appealing to the jury was the way in which the tower deals with this condition when it meets the ground, with a low-level block forming a new frontage to the street and a base out of which the tower rises.
The jury praised what this combination was able to bring to the pedestrian experience of Angel Court, commenting that 'the way the building is set back at ground level, and the removal of some of the existing low-level building greatly enhance Angel Court, providing a better route through' and that it has 'transformed the ambitions of the street'.
The jury also commented on an excellent use of materials, such as the fritted glass of the tower but in particular what they termed the 'generous' Irish limestone cladding of the lower block, as well as roof garden design by Vogt, which brings a sense of 'beauty and delight'.
All of this was achieved for what the jury felt was a 'surprisingly low budget' considering its scale and the impact it has had on the surrounding public realm.
Source: The Architects' Journal