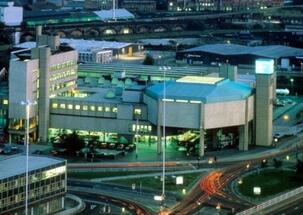 Contracts have finally been exchanged on the sale of the 4.75 acre former Yorkshire Post offices in Wellington Street, Leeds.
The buyer is a Yorkshire-based private investor who now intends to demolish the iconic building.
A previous attempt to get it listed as an example of brutalist modern architecture failed and the paper has reported that demolition work is expected to begin in three to four weeks.
The former YP/YEP building at Wellington Street
The building is one of scores of current and former newspaper offices that have been marketed for sale by Johnston Press through a special property website set up specifically for the purpose.
The value of the deal has not been disclosed but given the size of the site is certain to run into millions.
First opened by Prince Charles in 1970, the building was put up for sale in 2012 after the print plant there closed and YP and Yorkshire Evening Post staff moved to their new offices at No 1 Leeds.
Plans are now being worked on for a number of possible uses, including a conference centre, offices, a hotel, private residential and leisure facilities or a combination of these in a major mixed-use scheme.
Paul Fox, of joint agents Fox Lloyd Jones, who sold the site on behalf of Johnston Press plc, said: "We received a wide range of differing interests in the site reflective of its commanding gateway position and the additional benefit of the unexplored riverside frontage.
"The successful purchaser demonstrated an ability to perform unconditionally and swiftly, and shared the city's aspirations for a major landmark scheme for Leeds.
"It is an extensive site, which will become more apparent once the building is demolished and the area is opened up, which is expected by the end of June.
"It is undoubtedly one of the best development opportunities to come to the market in Leeds in recent years.
"The west end of the city is currently seeing significant activity with a number of high quality mixed-use schemes now being brought forward.
"We believe that the Yorkshire Post site will provide the perfect extension and gateway to this activity, as the city centre grows in that direction."
Source: holdthefrontpage.co.uk
Publisher: holdthefrontpage.co.uk