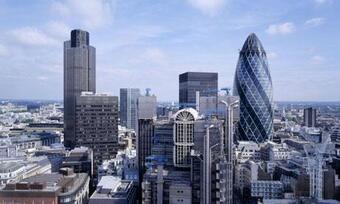 Record levels of overseas investment will see London build its position as a global hub, according to findings presented at Knight Frank's annual Central London breakfast at the Dorchester Hotel.
The meeting heard that prime rents in the City rose by 9.1% to £60 per square foot year on year, driven by a 40% rise in office take up to 8.1 million square feet. The forecast is for City rents to rise to £65 per square foot this year, and then to £75 by the end of 2018, an increase of 25%.
Prime rents in the West End increased by 2.6% to £97.50 per square foot as take up rose by 46% to five million square feet. The forecast is for West End rents to rise to £105 per square foot this year, and then to £120 per square foot by the end of 2018, an increase of 23%.
This follows a revival in demand for office space in Central London in 2013, where take up increased overall by 41% to 13.1 million square feet. It also heard that technology and media firms were the largest source of demand across central London, with major deals signed by Google, Amazon, Facebook, Twitter, News Corp, and Ogilvy & Mather.
The investment volume for the central London office market hit a record high of £19.6 billion, an increase of 42% on 2012, and 14% greater than the next highest year which was 2007.
Supply fell from 16.5 million square feet in 2012 to 16.1 million square feet at the end of 2013. This reflects a vacancy rate of 7%, which is below the 10 year average figure of 8.5%, and its lowest level since the second quarter of 2008.
Meanwhile, take up in Docklands increased by 19% to 564,000 square feet with deals by KPMG, HSBC, and Shell.
'London's office market rebounded last year, and the momentum is set to continue. As well as a rising economic tide, the capital is set to benefit from upcoming infrastructure projects like Crossrail and the Northern line extension,' said Stephen Clifton, head of Central London at Knight Frank.
'Also, entire new districts are emerging like London Bridge, Battersea and Nine Elms, where offices, residential, retail and leisure, sit alongside each other, as London transforms into a Manhattan style live and work city,' he added.
According to James Roberts, head of commercial research at Knight Frank, the figures demonstrate how London's economy is successfully rebalancing away from finance. 'The Technology, Media and Telecoms or TMT sector accounted for nearly four million square feet of take up in 2013, which is more than double the 1.9 million square feet figure for the financial sector,' he explained.
'This is nearly a complete reversal of the situation in 2007, when we saw 3.7 million square feet of finance take up, and two million square feet of TMT deals. Moving forward we see more diverse demand coming through as the economy continues to strengthen, like Fin-Tech firms, who straddle the worlds of finance and technology,' he added.
Philip Hobley, head of West End leasing at Knight Frank, pointed out that a lot of firms in 2011 and 2012 were put off launching office searches by the worrying economic news, but there was more confidence around in 2013, hence the 41% rise in take up.
'With the vacancy rate already low by historic standards and on a downwards trend, many of those launching office searches this year and next are going to be surprised by how limited their options are, and this will generate competitive bidding for the best quality buildings,' he said.
Global investors quickly redeployed from safe havens like bonds and gold, to growth facing investments in 2013, and London real estate has been high on the shopping list, according to Nick Braybrook, head of City investment at Knight Frank.
'Now buyers are looking for buildings which offer exposure to the rental cycle, and consequently development sites are drawing more interest. With the prospect of rents increasing by a quarter over the next five years, and the economic news appearing to support such forecasts, I see continued strong investor interest in 2014,' he concluded.
Source: propertywire.com
Publisher: propertywire.com