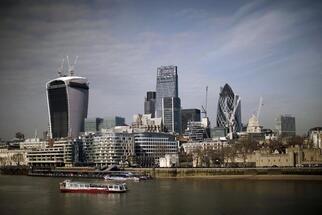 "They're buying those apartments, furnishing them, locking the door and leaving them empty," said Rees, 65, who left his post last week after 29 years in charge of planning. "Large parts of London are becoming ghost towns and a lot of the young people who come to work here can't find anywhere to live."
Record property prices and rising rents have triggered a backlash against absentee landlords, prompting the government to impose a tax on companies that own empty homes. In December, under pressure from city officials, a group of 11 U.K. homebuilders agreed to stop giving overseas residents the first shot at buying London homes sold before they're built.
The U.K. government should raise taxes on properties left vacant and use that revenue "to provide homes for people who really need them," Rees said. About 85 percent of all new homes sold in London's most sought-after districts such as Mayfair and Notting Hill aren't used as the buyer's primary residence, broker Savills Plc (SVS) estimated in a 2013 report.
'Biggest Threat'
"The influx of residential investment money is probably the biggest threat facing London at the moment," Rees said. "There must be a way where the government can tap into this investment boom to the benefit of London."
London faces a shortfall of 21,500 homes a year for the next five years, most of it at the more affordable end of the market, Savills said in a separate November report. Households earning less than 50,000 pounds ($84,000) a year make up 57 percent of the demand for homes, the broker said.
London accounts for 22.4 percent of the U.K. economy, up from 19.4 percent in 1997, according to government data. In the third quarter of last year, the most recent figures available, the city's annual growth rate of 3.2 percent beat a comparable figure for the U.K. of 2 percent, according to the Greater London Authority.
At One Hyde Park, the U.K.'s most expensive apartment complex, 34 of the 83 residences eligible for local-government tax qualified for second-home discounts of 10 percent, the City of Westminster said in a reply to a 2012 Freedom of Information Act request by Bloomberg News. The borough removed discounts for second homes and empty properties last year.
Darkened Streets
The government has taken steps to make absentee ownership less attractive amid concern that some London neighborhoods are becoming blighted by darkened streets lined with unoccupied homes.
In March 2012, Chancellor of the Exchequer George Osborne levied a 15 percent tax on residential real estate valued at more than 2 million pounds bought using companies set up to avoid taxes. The tax was applied to empty homes worth 500,000 pounds or more in March.
A residential building in the City of London financial district is worth 50 percent to 400 percent more than an office property of the same size, said Rees, who oversaw the redevelopment or refurbishment of more than three quarters of the office space in the borough during his time as planning officer.
"They would all go to apartments if we let them, but then there'd be no jobs. We've got to provide the jobs first," Rees, who's now Professor of Places and City Planning at University College London, said in the March 21 interview.
Overseas investment in commercial property benefits the economy, said Rees, who planned the cluster of office towers in London's financial district. "That's maintaining and creating new office stock and therefore providing or sustaining jobs."
Source: businessweek.com
Publisher: businessweek.com