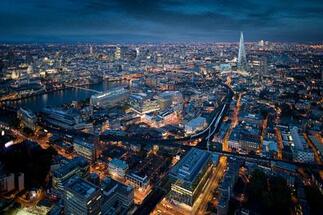 In fact, according to the latest findings, the UK was actually the number one global hotspot for commercial property buyers from around the globe in 2013 thanks to a number of different factors playing in its favour.
in the latest report for the whole of 2013 from CoStar, it has been revealed that the level of investment in commercial real estate in the UK in 2013 was GBP 52.7 billion. This was almost GBP 20 billion higher than a year earlier in 2012, when the total money coming into the sector amounted to just GBP 33.7 billion. The fourth quarter proved to be the largest contributor to growth in the market, according to CoStar, with income for the sector in this three-month period alone amounting to GBP 19.5 billion.
As well as improving greatly on 2012, the UK's commercial investment levels also far exceeded those seen in other nations worldwide. Join IPIN Global TodayFor example, while office transactions in London accounted for GBP 19.5 billion, the total cost of commercial office sales in New York amounted to just GBP 12.6 billion, showing just how strong the UK's market has performed internationally.
Mark Stansfield, CoStar's London analyst, said: "The combined factors of a low-interest-rate environment, easing eurozone instability, the UK's economic turnaround and the wall of money coming from overseas created a tsunami effect, leading to an annual figure just shy of 2007's debt-fuelled GBP 56 billion - which few observers would have predicted at the start of the year."
The reason for the strong position of the UK commercial market in 2013 was the strength of the market. With the economy growing by 1.9 per cent, business sentiment climbed to its highest index since 2007, and more companies were subsequently looking to upgrade their offices. When this is coupled with the investor sentiment at a time when interest rates are low, it made for a very strong year overall.
Source: ipinglobal.com
Publisher: ipinglobal.com