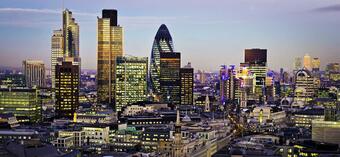 Setting up shop in Shoreditch puts Mindspace at the heart of the capital's upbeat and artistic atmosphere and creates the perfect backdrop for its members. Mindspace will establish itself directly adjacent to the new Amazon HQ and just a ten-minute walk from Old Street's Silicon Roundabout, the centre of East London Tech City which is the third-largest technology startup cluster in the world after San Francisco and New York City. Mindspace Shoreditch is two-minute walk from Liverpool Street station, within few-minute walk of six other tube stops, and there are dozens of restaurants, bars, fitness clubs, green spaces, theatres and art galleries around.
Dan Zakai, co-founder and CEO of Mindspace said, "London is a great market for Mindspace's upscale coworking offering and we're determined to make our mark in the city. We see strong demand for our first London location at the Relay Building right above Aldgate East station, and are delighted to announce our second location in Tech City. Shoreditch's trendsetting culture makes it one of the most desirable places to live and work in. Mindspace shares the same passion for arts and culture that is embodied in the neighborhood, and we bring this to our workspaces and communities, worldwide. London's Tech City attracts the world's leading enterprises, startups, accelerators and VCs, some of which already call Mindspace a home for their business in other European cities. We'll allow more and more movers and shakers to make their move on Tech City by becoming Mindspace members."
Founded in 2014 by Dan Zakai and Yotam Alroy, Mindspace operates 15 spaces throughout the U.K., Germany, Poland, Israel, and soon the U.S., and caters for over 8,000 members and 2,000 companies, globally. With design at the wheel, Mindspace provides a boutique-style yet enterprise-ready co-working experience, with comfortable private offices, cosy lounges, stunning meeting rooms, and fully-stocked kitchens. Local artists bring the walls to life, whilst community managers empower and support the vibrant real-world community.
Mindspace's community of entrepreneurs, startups, and innovation teams from leading enterprises enjoy weekly networking events, professional meetups, and happy hours in a collaborative atmosphere. Flexible membership options let members focus on growing their businesses while enjoying valuable benefits and discounts from global and local service providers such as Google, Amazon, Microsoft, nearby restaurants, car rentals, hotels, gyms, and spas. Among Mindspace's members are world-leading brands such as Microsoft, Barclays Bank, Samsung, SAP, Lufthansa, M&C Saatchi, Techstars Accelerator, Euronews and Cheetah Mobile.
Source : http://mindspace.me