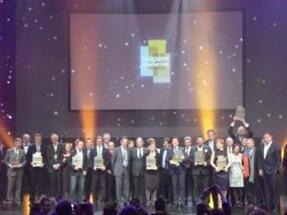 A grand synchrotron facility for material research currently under development in Lund, MAX IV has a 820-foot-long linac accelerator, in a 1377-foot-long tunnel, two storage rings, the longest of which measures 1732 feet. The project's architect is Fojab arkitekter and Snøhetta, and the developer is Fastighets AB ML4.
Gardens by the Bay as BEST INNOVATIVE GREEN BUILDING (Singapore)
The development was designed by Grant Associates, Wilkinson Eyre Architects and Atelier Ten, which provided environmental design and building engineering services. The National Parks Board Singapore is the developer of the project which consists of two massive cooled conservatories or 'biomes' and 18 large 'super tree' structures, ranging from 82 feet to 164 feet in height, arranged in three clusters around the conservatory complex.
This same project has also received the SPECIAL JURY AWARD.
Tanzende Türme as BEST OFFICE AND BUSINESS DEVELOPMENT (Germany)
Also known as the 'dancing towers', this distinctive office development is located on Hamburg's well-known Reeperbahn Street. Ranging from 22 to 24 floors, the high-rises also feature bars, restaurants and underground parking. The architect is BRT Architekten L.L.P. Bothe Richter Teherani and the developer is STRABAG Real Estate GmbH.
InterContinental Marseille as BEST REFURBISHED BUILDING (France)
In 2013, owner AXA Real Estate and developer Altarea Cogedim completed the three-year conversion of the "Hotel-Dieu" hospital into a five-star hotel: the InterContinental Marseille. Designed AAA Béchu Agency & Tangram Architects, the project is the second hotel redevelopment to receive the new certification "NF Service Industry Buildings – HQE® Procedure, Hospitality Industry."
The Oliv as BEST RESIDENTIAL DEVELOPMENT (Singapore)
Situated along the prestigious Balmoral Road in Singapore, The Oliv is a 12-story residential building offering 2 garden-style apartments, 18 sky suites and 3 penthouses. The architect is W Architects Pte Ltd. and the developer is TG (Balmoral) Pte Ltd.
Emporia Shopping Centre as BEST SHOPPING CENTRE (Sweden)
Developed by Steen & Ström Sverige AB, Emporia features 200 stores, restaurants and cafés, as well as a unique rooftop parking lot with 2,700 spaces. Internationally renowned architect Gert Wingårdh is the designer of the three-level retail center that opened in October 2012.
Kö-Bogen Düsseldorf as BEST URBAN REGENERATION PROJECT (Germany)
Located in the heart of the city of Düsseldorf, the Kö-Bogen mixed-use development features retail, restaurants and offices. Designed by Studio Daniel Libeskind of New York, the project is a symbol of the new urban architecture that successfully links urban settings and landscape. Projektentwicklung GmbH is the developer of the scheme which opened in October 2013.
Bosque das Acacias as BEST BRAZILIAN PROJECT
Located in São Gonçalo do Amarante, this luxurious mixed-use residential community designed by HCP Architecture & Engineering is currently under construction. Developed by EcoHouse Group, the project will also include a shopping center, daycare center and other features.
VTB Arena Park as BEST RUSSIAN PROJECT
A multi-functional sports entertainment complex, VTB Arena Park is part of the overall reconstruction of the Dynamo Central Stadium in Moscow. Designed by Manica Architecture / SPEECH Tchoban & Kuznetsov, the project will feature residential, hospitality, retail and office space. The developer is a closed joint-stock company.
Spine Tower as BEST TURKISH PROJECT
Located in Istanbul, this architecturally distinct 47-floor, mixed-use high-rise features residences on the top floors, as well as office space on the lower floors. The project has been designed by iki design group and developed by Soma Group.
Source: cpexecutive.com
Publisher: cpexecutive.com