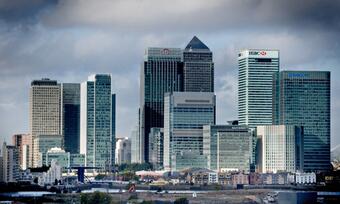 Qatar has made a last-ditch attempt to buy the Canary Wharf business district in east London with a new cash bid of £2.6bn.
Qatar's sovereign wealth fund and its Canadian partners, Brookfield Property Partners, increased their bid for Songbird Estates, the company that owns the Canary Wharf development, from £2.2bn to £2.6bn just 90 minutes before a regulatory deadline on Thursday.
Songbird, which has owned Canary Wharf for the last decade, rejected the Qatar Investment Authority's previous £2.2bn bid last month saying it "significantly undervalued" the company.
The Qatari investment vehicle, which already owns the Shard, Harrods and the London 2012 Olympic village, said its latest offer was "a highly attractive opportunity for shareholders to exit an illiquid investment".
QIA is already Songbird's largest shareholder with a 28.6% stake. Songbird owns 69% of Canary Wharf Group. QIA's partner, Brookfield, already owns 22% of Canary Wharf Group.
The bidders said their latest 350p-a-share offer represents a near-34% premium to Songbird's share price on 5 November, the day before their interest was made public.
However, Songbird has claimed the recent upturn in property values means it is now worth £2.8bn. Songbird did not respond to requests for comment on the latest offer, but a spokesman said the company was preparing to make a statement.
The offer made at 3.30pm on Thursday came just 90 minutes before the 5pm takeover panel deadline by which the consortium had to make a final offer or walk away for at least six months. Qatar and Brookfield said they "wish to avoid a protracted debate on value and so minimize the uncertainty for the management of Canary Wharf Group".
QIA has been building up an impressive portfolio of UK assets, including Harrods (which it bought for about £1.5bn in 2010), 95% of the Shard, the Olympic village, the American embassy building in Grosvenor Square and big stakes in Sainsbury's and Barclays.
A member of Qatar's ruling family was on Thursday appointed head of the QIA, which manages more than $300bn (£190bn) of investment on behalf of the tiny oil and gas-rich state.
Sheikh Abdullah bin Mohammed bin Saud al-Thani will take over from Ahmad al-Sayed as the new head of the QIA, the official Qatar News Agency said.
Songbird also has stakes in 20 Fenchurch Street – better known as the Walkie Talkie skyscraper – and in the Shell Centre on the South Bank in London.
Rupert Neate
The Guardian, Thursday 4 December 2014 18.08 GMT