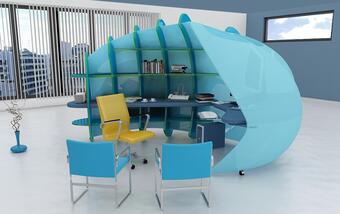 People are definitely convinced that creative work environment stimulates minds and inspires innovation. Also it enhances an open and productive relationship between departmental employees, executives, management and interning students working together. 

Creatives and designers are all trying to break the mold and introduce unique working environments. Follow them, inspire yourself and try to inject some personality into the place you spend your daily 9to6. So check out the top 3 of the most creative offices and get some ideas from the creative giants!

Google – What they believe 
It all started with a small garage and a bunch of creative minds. Nowadays, the offices of Google are among the most famous ones in the world. With more than 70 offices in 40 countries, Google operates on a worldwide scale with loads of nationalities.
In addition to create an inspiring and aspiring work environment for its many employees, Google came up with their unique kind of offices. Slides, laundry machines and a fitness space are elements you will not easily find at your average office. These examples are contributing to a cheerful atmosphere and improving and creating relationships with other employees. In other words, they bring people together.

Red Bull – It gives you….creativity
The energetic and dynamic working environment of Red Bull resembles its own products. Fast lines and tight design differentiates the office of Red Bull from the standard office designs. It clearly shows that the company is young and progressive in their own way. According to Red Bull, a well-designed environment helps employees excel in their performance and stimulates creativity. Who else has an ice rink in their office?

Pixar – Animation in the office
The office of Pixar is a place where, just by looking at it, we can tell that creativity is everywhere… This workplace originally housed computer scientists, animators, executives and editors in separate buildings. Each group had its own culture and problem-solving approach and not working together discouraged them from sharing ideas and solutions. Steve Jobs wonderfully redesigned everything, created a single cavernous office for the entire Pixar team, which led to John Lasseter, Pixar's chief creative officer, saying that he'd "never seen a building that promoted collaboration and creativity as well as this one."
All these offices have the goal to contribute to employee engagement, creativity and building relationships as well as to keep a cosy atmosphere while working. If you got the feeling to change your gray and depressing workplace our have a cool one, 
The smart way to find an office is with www.officerentinfo.com