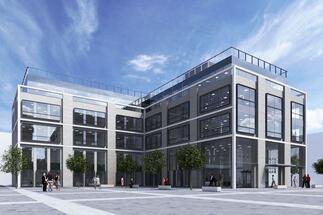 The 16 year high - revealed in the Warrington Economic Review, published today - come as the town aims to grow it's economy to a mighty £30bn.
With 4,000 jobs created in the past three years Warington now claims to be in the top ten UK locations for private sector growth.
A new partnership between Warrington council and St Helen's-based developer Langtree is also expected to deliver growth along the town's southern fringe as the council press on with a £476m development programme.
Over the next decade the Warrington area is expected to see the creation of 30,000 new jobs as part of a £30bn economy.
The take up of industrial and warehouse floorspace was 1.97m sq ft, almost one third higher than in 2010, which until now had been Warrington's best.
Four major deals at the Omega site accounted for most of the take-up. Two of them, Travis Perkins and Asda each exceeding 50,000 sqm.
Asda purchased their site at Omega South through development partner Bericote Properrties.
Performance in the office market was at its strongest since 2011 with take-up of 322,000 sq ft.
Forty six businesses relocated in the town including a number of large headquarter moves contributed to this success, including MDS, a leading technology and services business, and Golden Gates Housing Trust responsible for managing social housing across the town.
However, Warrington's office market still suffers from an oversupply of buildings completed during the last economic boom - and warns that speculative development remains a distant prospect.
The report says: "The supply of vacant floorspace remains high in the Birchwood area alone there is 590,000 sq ft of vacant space, some 22 per cent of the total stock.
Across the wider Warrington area the figure is estimated to be around 800,000 sq ft with rental levels still depressed it is likely to be some time before the investment and development sectors are confident enough to build speculatively."
Source: manchestereveningnews.co.uk
Publisher: manchestereveningnews.co.uk