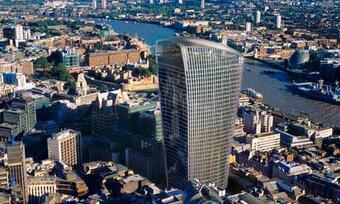 20 Fenchurch Street, EC3, otherwise known as the 'Walkie Talkie' building, has secured a further two tenants, taking the building to 87% let, with the office floors now complete as scheduled.
Insurance firm CNA and UK law firm DWF are the latest addition to the tenant lineup and are taking 35,000 sq ft and 43,000 sq ft respectively at the 38-storey building.
The latest two lettings come after joint developers Canary Wharf Group and Land Securities achieved the building's first completion milestone on 17 March, when they handed over possession of the first completed office floors to tenants. The remaining office floors were completed as planned in April.
The Sky Garden - a landscaped garden, dining and viewing area on the top three floors, which will be operated by rhubarb - remains on schedule for completion before the end of the year.
CNA identified the building as ideal for the co-location of the London offices of its group companies, CNA Insurance and Hardy, due to its proximity to Lloyd's of London and both companies' current locations, as well as the building amenities.
Richard Archer, Head of Leasing at Canary Wharf Group commented:
"We look forward to welcoming CNA Europe, Hardy and law firm DWF to 20 Fenchurch Street and are pleased that the building continues to attract a range of businesses looking for exceptional space in the City."
Andrew Leaitherland, Managing Partner at DWF said:
"20 Fenchurch Street offers exactly the flexibility and efficiencies we are looking for in a new office building and will support growth in our three primary sectors of real estate, insurance and financial services. We're incredibly excited to be making the move."
Kaela Fenn-Smith, Head of Leasing at Land Securities, added:
"CNA and DWF's decision to take space is another success story for 20 Fenchurch Street. We've remained true to the building's principles of offering businesses much-needed flexible space in the City and the fact it was 87% let ahead of completion is testament both to its design and our approach."
The first tenants are expected to move into 20 Fenchurch Street this month. DWF, CNA Europe and Hardy will join a strong tenant line-up of Ascot, Jane Street, Lancashire, Vanquis, Markel, Liberty Syndicates, Liberty Mutual, AWAC, RSA and Kiln.
Source: propertymall.com
Publisher: propertymall.com